Eye-shadowing Customers' Reviews
Skrevet av

Sist oppdatert

4. november 2020

Kategori

Tema

Innovasjon
Kundebehov
Produktutvikling
Costumer needs
Skrevet av

Sist oppdatert

4. november 2020

Kategori

Tema

Innovasjon
Kundebehov
Produktutvikling
Costumer needs
By extracting data-driven insights from online customer reviews, we can gain deeper perception of customers' preferences, thus helping companies in developing new products.
KNOWLEDGE @ KRISTIANIA: Technology applied
Understanding the customer's needs and wants is the ultimate dream of marketers worldwide. In order for organizations to stay competitive, they need to transform market opportunities into products available for sale. Transforming the market opportunity into a new product is usually referred to as new product development.
A fundamental aspect of new product development is product design, along with various other business considerations. Hence, the development of new products and services is a crucial process for the survival of the modern enterprise.
Speed is a key to Success
As the cosmetic industry is inherently lucrative, innovative, and fast‐paced, the proper product innovation and development that can fulfil customers' preferences and expectations and retain their loyalty toward the same products, is the key to success for cosmetics companies.
However, it is difficult to anticipate what certain customers will prefer in the future and when these kinds of changes in product preferences will happen. Besides, new products usually take 5 years on average to develop before they are available in the market.
In this case, speed, flexibility, together with a strong market‐oriented sense and customer knowledge competence are considered to be indispensable elements to the success of new cosmetic products development.
Failing to fulfill preferences
Cosmetic companies should not only be aware of any trivial change in customers' preferences but also know how to involve those preferences into their new product development process in order to respond to customers' new preferences as early as possible.
If a company fails to create proper products on time to fulfill customers' preferences, a plunge in sales will most likely occur, when customers decide to buy other competitors' products. Hence, analyzing the preferences of current and potential customers, their consumption habits, and their levels of satisfaction should be viewed as the starting point for new product development.
Analyzing customers' reviews
With the rise of big data analytics, many blooming fruits are now ready for harvesting by organizations. In specific, the possibility of scraping and analyzing customers' reviews on purchased products has opened unprecedented volumes and opportunities for data collection and market research.
Through employing Text Mining algorithms, organizations can identify several patterns related to opinions, sentiments, topic extraction, keyword frequency and analysis, among others. In our paper "Exploring customer online reviews for new product development: The case of identifying reinforcers in the cosmetic industry", we have analyzed 868 reviews on one of L'Oréal's best-selling lipsticks on a cosmetics-specialized online retailer website (www.makeupalley.com).
Since that the website collects data regarding several consumer-related attributes, like the reviewer's eye color, age group, hair color, skin tone, and the consumer's product rating, we were able to use several text analytics techniques for analysis, and then segment and compare our findings based on those attributes. The reason for segmentation is to identify if there any differences in the preferences of consumers across the different tone and color segments, and also age groups.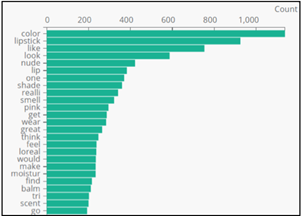 The magic of color
When we analyzed the top 10 one-keyword frequency count, we found out the word "color" was the most mentioned word across all reviews and attributes, as shown in the figure. Afterwards, we analyzed the sentiments towards the keyword "color" and our findings show that the majority of reviews had a positive sentiment in relation to the term color. Then we extracted the top 10 mentioned keywords per age group, and we figured out that all age groups had the term "color" as number one keyword, except the eldest group of age 55+.
This group had the term "lipstick" as the most mentioned keyword, and "red" as the second. When we started to analyze this group's reviews, we figured out that they had more than 50% negative sentiments towards the color "red", and they mostly discuss their wishes to have more natural (K5=nude) colors.
We have conducted the same analysis again based on skin tone, hair color, and eye color. According to our results, the customers' preferences on lipsticks can be generalized into three main categories: color, moisture, and odor and taste.
Aiding new product development
It is interesting to notice that when the data is grouped according to age, the topics that the customers are discussing in their reviews differ significantly. However, when the segmentation is based on skin tone, the topics that the various segments of customers discuss are almost the same. The only difference among the skin‐tone‐based segmentation is that the customers emphasize their skin tone when their skin is originally darker.
Within the cosmetics industry domain, it is believed that the market search process, if done properly, has a sturdy impact on the firm's ability to manage the marketing mix efficiently, retain its existing customers, acquire new customers, and eventually maximize profits.
Thus, this study extracts data‐driven insights from the online customer reviews to understand customers' preferences and aid new product development managers to identify the consumer preferences based on their personal attributes.
References:
Haddara, Moutaz, Jenny Hsieh, Asle Fagerstrøm, Niklas Eriksson and Valdimar Sigurðsson (2020). Exploring customer online reviews for new product development: The case of identifying reinforcers in the cosmetic industry. Managerial and Decision Economics, 41(2), pp.250-273, Wiley.
This popular article is first published in Kunnskap Kristiania 2020/2021. Kunnskap Kristiania is a science Communication Magazine published by Kristiania University College.
Text: Professor Moutaz Haddara, Department of Technology, Kristiania University College.
Photo: By extracting insights from online customer reviews we can better understand customers' preferences and thus aid new product development managers to identify the consumer preferences based on their personal attributes. Photo by Andriyko Podilnyk on Unsplash.