Meet the lecturer of Music Business
Meet the lecturer of Music Business
Scott had to start from scratch in the UK music business, and is eager to teach others everything he wish he knew when he first started out. Regardless of whether you want to make the music business your career, or if you're a musician looking to learn the ins and outs to get your own career going, Music Business will give you the keys to the castle.
Name: Scott Baker-Marflitt
Project coordinator and lecturer for: Music Business
– Who are you and what is your background?
– I'm from Newcastle-upon-Tyne in the U.K. and I come from a very working-class area of the city. The sort of area where if you end up as a bricklayer, or just not in trouble in general, you've achieved something. I went to an inner city school with 2000 other students, so that taught me how to be street smart early. I studied Environmental Science at Liverpool John Moores University and decided I didn't want to spend my career in a muddy field taking soil samples.
– I had always had a deep affinity for music – discovering it, sharing it with friends and so on – and grew up in a household where music mattered a lot to us as a family. I can't play any instruments
– I don't have enough patience. But I was always a geek for finding out who produced this track; who wrote it; what's the record label called? So, it made sense to me to try and get into that side of music – the business side. So, I began emailing companies during my final year at uni when I was 21 years old, with zero reply.
– I continued to get zero replies for 8 months. Until my phone rang and it was music business legend, Jazz Summers. Jazz ran Big Life Management in London with Tim Parry (another legend). Over the years they've been responsible for managing people like WHAM!, Snow Patrol, The Verve, Badly Drawn Boy, Klaxons, La Roux – the list goes on. After praising my persistence (I think he was annoyed), he told me to come and have a meeting in London. After the meeting he told me to go back to Newcastle and find some bands, so I began working as an A&R scout (the people who find the bands) for Big Life Music, their music publishing company. Once I'd found a band they liked, we could talk further.
I was included in a list of the 30 most promising people working in the global music business – which my friends back in Newcastle still find amusing.
– So, that's what I did. I found a band called The Futureheads 3 months later. Big Life loved the band and Jazz said he thought I'd make a decent artist manager. The short version is we signed them to a worldwide record deal with Warner Brothers two years later. We had a top ten album and single in the UK and did well internationally with that first album.
– As a result of my managing that band, I was included in Billboard Magazine's inaugural Power Players feature which highlighted the 30 most promising people working in the global music business under 30 years old. Which my friends back in Newcastle still find amusing. Since then, I've worked for record labels like Global Underground as a music publisher, No Half Measures in Glasgow as a product manager, ran my own label through PIAS(UK) in London. And had a stint back at Big Life managing a Norwegian act called Kid Astray for a while. And that's how I find myself living and working in Oslo now.
– What is Music Business about?
– The global music business is a minefield, really. Without the guiding hand of Big Life back then, I wouldn't have had the success I had. So, when I sat down to write this course, I thought of what I wanted to know when I first started out. All of the stuff I learned with The Futureheads When people first think about a career in the music business, the one word or term that people know something about it A&R. Those are the scouts for record labels, publishers and management companies who spend their time finding new talent. But there are so many other roles within the music business that you just donæt know until you look into it. The course aims to provide an anchor-point for those kids who are like I was in 2001 – massively motivated and eager to work in the music business, but don't really know where to start or what it is they want to do.
The course aims to provide an anchor-point a for those who are massively motivated and eager to work in the music business, but don't really know where to start.
– This course gives you the tools to be able to immediately hold your own in a meeting with the head of a record label, a publisher, an agent etc. It covers the main areas of industry in the business – record labels, publishing, marketing etc. but the unique element is the Applied Working Practice module. The students, with me, will set up and run and independent record label here at the college whilst learning the theory alongside. That module starts on day one and finishes the day they leave us. What it also will do, though, is give the student the space and time to really try out each main branch of the industry – including marketing and promo, live touring, music business law – and see what their particular passion is.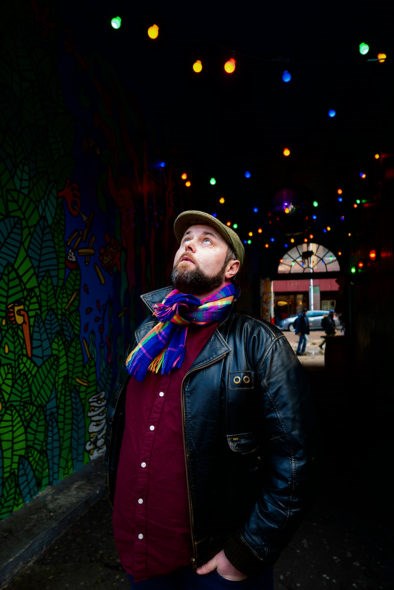 – Speaking with my industry contacts and friends, this part of it is the most attractive to them as potential employers. It means that, essentially, the training everyone needs to be successful in the music industry is already done. Really, they don't have that much time to spend hours teaching and mentoring. That's my job here now. I have a deep and lasting desire to find those people who have the same desire to make a difference in the music business of tomorrow so to be able to provide that kind of ecosystem in which they can find their feet is really exciting to me.
– Who will you recommend to apply for Music Business?
– I think the beauty of the way this course is structured and designed is that it equally applies to people who are musicians and those who are not. Personally speaking, as an artist manager, I know that those bands who are fully versed in the ways of the music business are better artists for it and they enjoy far more success. I always wanted my artists to know what I knew.
I wish there was a music business 101 course I could have taken

↳ Kurt Cobain
– With the record label element, if you're a musician, you have a direct line into how that process works, from start to finish. If you leave here as a musician and sign to Sony, great. If you don't or if you're waiting for that opportunity, you will know how to set, run and deliver an indie label! Win win. – Equally for those people – like me – who don't play instruments but who have definitely got an ear for a hit or think they know a better way to deploy a marketing campaign for their favourite band, this course will help you develop and hone that raw talent.