Oslo, the Student Capital
Oslo is the capital of Norway, but with only 693 494 inhabitants it doesn't feel too big. Greater Oslo houses about 1,3 million, and still there's plenty of space for everyone. You may be wondering how student life fits in?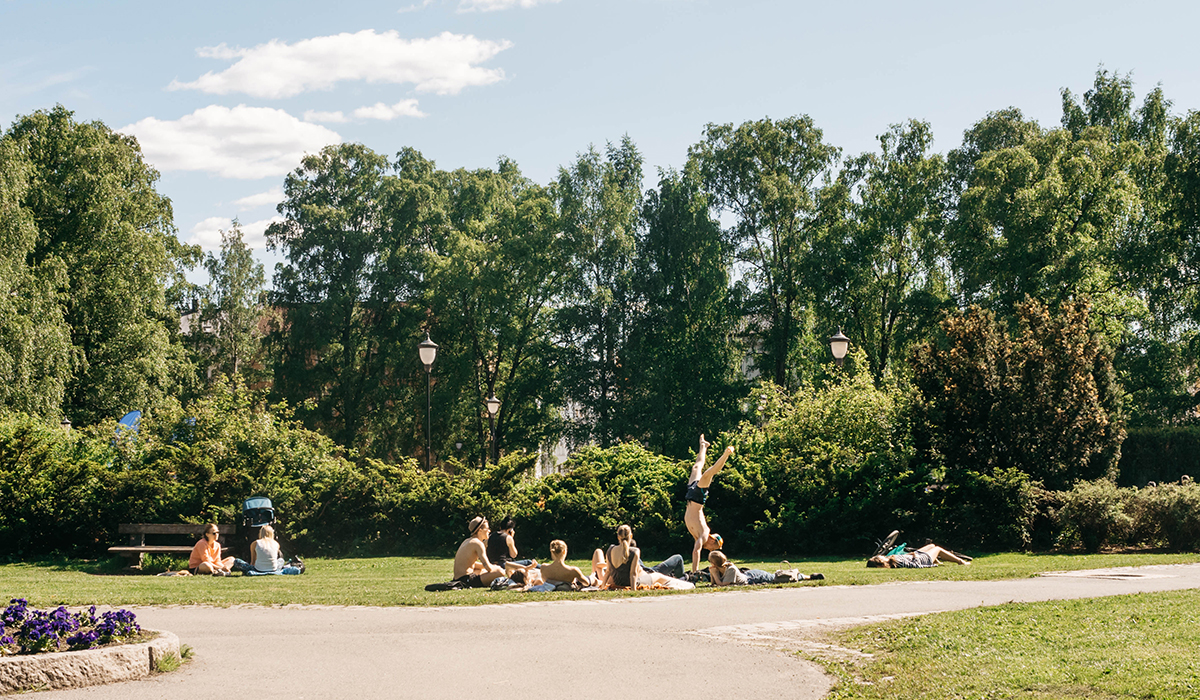 The best thing about Oslo is that everything is about 15-20 minutes away no matter where you are. Whether you're looking for shops, restaurants and nightlife or forest, fjords and seaside, it's just around the corner. The city is international in every way and people from more than 200 nations live here. Norwegian is the official language, but most people speak English, and some speak French, German or Spanish.
Oslo is nevertheless a fairly big and fast-paced city. And it's growing fast. In fact, Oslo is the fastest growing capital in Europe, and this is reflected on both lots of new building projects, and, alas, housing prices. If you decide to settle here, you will find everything. From large to small, few to many, cold to warm, culture to nature, rags to riches. But most of all you'll find a clean, well organised and safe city in which to live, thrive and study in.
The great outdoors
Many people think that Norway is still in the ice age, even though this ended 10 000 years ago.The climate is milder than the latitude suggests, and winter doesn't last very long. Especially in the centre of Oslo, which is usually snow and ice free for the most part during the winter months. Still, the hills around Oslo keep the snow to be enjoyed by a majority of the city's population for winterly activities. The summer is a totally different story. With the sun up from 4 am to 11 pm, it's where the city really comes to life. Fun facts: Average annual hours of sunlight in London: 1460. In Oslo: 1632. The longest day of the year in Vancouver, Canada: 16:01 hrs. In Oslo: 18:28. More sun, more fun.
This in turn makes Oslo a remarkably green city. There are more than 8 km2 of urban area parks, and 50 percent of the city area is in fact forest. Oslo is one of the world's largest capitals in terms of size, so naturally a lot of it is nature. Nature in which you are free to use at your leisure, hardly any restrictions whether you choose to walk, ski, bike, kayak, swim or even camp.
Oslo is also the perfect port for discovering the rest of Norway. Gardermoen, one of Scandinavia's major airport hubs is 30 minutes from city centre. So if you want to experience the northern lights, whale safari, Copenhagen or Stockholm, this is the place to start.
Party on
Oslo is small, but very vibrant. Each year 5 000 concerts are performed in Oslo. This makes Oslo the city in Europe with most concerts per capita. You will also find clubs, pubs and bars in all shapes and sizes. The city is divided into different neighbourhoods and areas and the atmosphere, guests and prices vary accordingly.
What does it cost?
Norway and Oslo is not cheap, sad but true. This is a result of general wealth and high wages. As a student, this may be a challenge if you don't find a part time job. But there are always ways. Let's take a look at Oslo on a shoestring:
Beer is expensive in pubs, clubs and restaurants as in most countries. In the stores, it's a lot more reasonable yet still expensive compared to the European average. And let's not forget wine and stronger liquor. The prices will sober you up in a second, and in addition this is only sold in licensed outlets. So what to do if you need a buzz? Most Norwegians drink before they go out. Otherwise you'd blow your whole month's budget on a night out. But the prices in bars vary a lot. Student bars can get you a beer for 30-40 NOK. These can be found around the city. Your fellow students will know how to find them.
Oslo is known as one of the European cities with the most cafés, and is a great city for coffee. It was actually named one of the world's 10 best coffee cities by USA Today in 2012. Prices aren't all that bad and you will also find fairly reasonable priced food.
Feed me
In general, food is expensive in Norway, but there's no reason to play the part of the starving student. Grocery chains such as REMA 1000 and KIWI are normally the lowest priced, the same goes for a large number of mom and pop shops selling mostly Asian and middle eastern food. These are mainly located in the eastern parts of city centre. Fruits and vegetables are normally the best bargain here. The Asian supermarkets have frozen meat, shrimp and fish, a variety of sauces and noodles in all shapes and sizes, and also fruits and vegetables at a reasonable price.
Restaurants come in all varieties. From top notch, super pricy food temples, to simple street food. Asian food can especially be cheaper in restaurants than trying to make it at home.
Dress up
For clothing, you will find lots of the reasonably priced chains such as H&M, Bik Bok, Carlings, Monki, Cubus, etc. In addition, vintage and second-hand clothes can be found, especially at Fretex (run by the Norwegian Salvation Army). They have several shops in Oslo that sell second-hand, but books and furniture can also be found. Uff is another charity association that collect and sell second-hand clothing.
Online, finn.no is the place to go. It's mainly a hub for selling or buying all sorts of things. They even have a huge selection of stuff that's given away for free! Only available in Norwegian.
For more information about Oslo and Norway, see VisitOslo.com – the official website for Oslo, visitnorway.com and living in Norway
Need help? Visit Studentsamskipnaden SiO, the welfare organisation for students in Oslo.
If you are a student at one of the institutions they have partnered with, and have paid the semester fee, you are welcome to use their services. They provide students with products and services that make life as a student efficient and stimulating.
Last oppdated: 04.01.2021. 11:20