Research collaborations
Kristiania University College is growing and is building increasingly large and broad research communities. Kristiania prioritises national and international collaboration and participates in a number of international networks.
Research collaborations contribute towards scientific developments nationally and internationally and connect academic communities, while also contributing to innovation. The University College prioritises both national and international collaborations.
We have extensive research collaborations in place with both individual researchers and research institutions, nationally and internationally.
Enquiries relating to research collaborations may be directed to the Pro-Rector of R&D/AD, Trine Johansen Meza or the relevant Dean.
Networks and collaborations
Kristiania University College participates in the following networks:
CILECT is an association for established educational institutions within film, TV and similar media studies at bachelor's level or higher. CLIECT focuses on members developing high standards of teaching, research and training. CILECT was founded in Cannes, France in 1954. As of 2020, CILECT had more than 180 educational institution members from more than 65 countries and six continents.
CIRRUS is a Nordic-Baltic network for study programmes related to art and design. There are 18 members from various art and design educational institutions in the Nordic region and the three Baltic countries. CIRRUS is part of the Nordplus higher education network.
Cumulus is the only international organisation for art and design studies and research. It is a forum intended for the exchange of knowledge and best practices between members. Cumulus currently consists of 360 members from 63 countries.
Elia is a European network for higher education in the arts. ELIA includes a platform for the exchange of knowledge and development related to art studies. With more than 260 members in 48 countries, ELIA represents more than 300,000 students within all disciplines of the arts. ELIA ensures that the best practices for educating art students are made available to all members.
Kristiania University College is an associate member of EUA, which represents more than 800 universities from 48 European countries. EUA plays a crucial role in influencing EU policies on education, research and innovation.
Nordplus aims to strengthen educational collaboration between the Nordic and Baltic regions.
There is a desire to support Nordic language and culture, as well as the Nordic-Baltic collaboration and understanding. Nordplus is aimed at the education sector. Eight countries participate in Nordplus. In addition to the Nordic countries of Norway, Denmark, Sweden, Finland and Iceland, the three Baltic countries Estonia, Latvia and Lithuania also participate. Åland, the Faroe Islands and Greenland also have independent membership.
UIIN is an international network with expertise relating to the collaboration between universities and businesses. The focus is to increase collaboration between universities and industry and to develop new knowledge that will have a major impact on society. The aim is for universities to be at the forefront of knowledge, research and innovation, in close collaboration with businesses.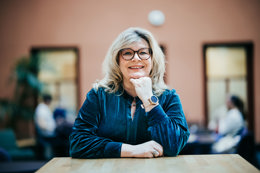 Trine Johansen Meza
Pro-Rector
Research administration and internationalisation